With a new album, Nuclear Soul, due out next week, Lionize are back. The album follows the band's widely praised 2014 album Jetpack Soundtrack and continues their ever-maturing sound. It's emotionally-driven and steeped in introspection, with subjects ranging from the end of times to heart break within the industry.
Recorded locally in Maryland, USA, production has been handled by Clutch's Jean Paul Gaster with J. Robbins and Lionize.
Taking time out from their recent U.K. tour which also included a stint at Ramblin' Man Fair, MGM spoke to lead singer Nate Bergman, about gold shell suits, new music and how the band bought the Groove to the appripriately titled Grooverider Stage at RMF.
AH: I can't imagine a better named stage for you to be playing on.
Nate: [Laughing] We thought we've brought the groove to the day…. It was fitting.
AH: And you got a good turn out, the weather had turned for the worst as well but people still showed up.
Nate: This was our first time at Ramblin' Man. And this was really our first proper UK open air festival. And we're elated. I mean, I can't, I don't know how to explain how we feel…, we flew across the world and played a show to a lot of people.
AH: Coming back to the stage name, I can't imagine you guys ever get a review or an interview that doesn't either mention the word vibe or groove in it.
Nate: The kinder ones, we'll include it.
AH: Yeah.
Nate: Sometimes you get one that's doesn't use either of those words [laughs]
AH: That seems to be your area though. You know, you bring the rock but you do you bring the groove, you do bring the vibe. You can really just get into it.
Nate: It's interesting because people ask us a lot, "What are you?" and.. we're a rock and roll band at heart but we grew up in Washington DC and where there is such a plethora of funk and soul and go-go music and jazz and R&B and it's — you can't ignore it. It's there. So it's part of us. You know.
AH: Yeah. It fits so well and everybody can really get into it
Nate: Thank you.
AH: And you managed to bring the sun is out as well. [RMF on the day they played was a bit of a washout for the whole day but during Lionize's set, the clouds parted. Good skills!]
Nate: Right. Exactly.
AH: Without it, on a poor day, it wouldn't really work, would it? You know, you need the weather as well…
Nate: We could play some slow stuff. We could get doomy if we have to get doomy. But, this is proper — this is a proper British Festival now [with the rain]. We played a great set and it's fucking wet out there and now we're strapped in mud. So, I think we're in.
As you'll see from the pictures, Nate played his set at RMF in a shiny gold shell suit. An interesting but hugely noticeable outfit for the front man in a rock band.
AH: Now, the outfit — when you're playing, I'll be honest, obviously the first thing that spring to mind was Goldmember [from the third Austin Powers Movie].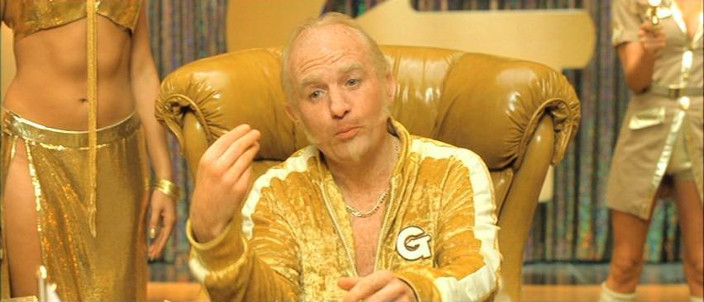 Nate: Great. I'll take it. [Laughing]
AH: Where did it that one come from?
Nate: The outfit came from an idea of — we went to play Desert Fest 2015….and I just kinda notice that all the bands we were playing with, there was a uniform happening. You know, we've been a jeans and T-shirt band for a long time. And, we notice that a lot of bands, you know even if you look around the day, and it's, it's cool for them but a lot of bands wear black and cowboy boots and it's a vintage look.
And we kinda want them to see, you know what, maybe, maybe we should look to the future and kinda — let's take from the bands that we loved like Queen and Deep Purple and let's take it somewhere else.
AH: Something with a little bit of life to it?
Nate: Right. Because I think at the end of the day, rock and roll is supposed to be fun. And it's, it's…..we're putting on a show. So, the end of the day we wanted to separate ourselves from other bands and so I wore a, a kinda psychedelic onesie to Desert Fest and it worked.
And people really enjoyed it and it took them away from the doom and gloom for a minute. So, it kind of evolved from there and for this tour I have two outfits and that's…. well that's one of them.
Let's have fun, you know.
AH: Yeah, why not. Now, your new album is out on September 8th. Tell me a little bit about that if you would. With you based in the States, you must have an awful lot of material to pick for inspiration to write songs about?
Nate: Right. It was a huge inspiration when we started writing this about a year and a half ago. We kind of slowly started to see that there's a real possibility of a guy like Donald Trump becoming President. And this, not just in America but kind of a shift to it with Brexit happening…
AH: Yeah.
Nate: …and what was happening in Germany and France with the politics, I mean. France just came really close to a, a fascist — basically, you know nationalist [Marine] Le Pen.
And we started to think to ourselves, "What fucking world are we living in right now?"
AH: Yeah. What pushed everybody to that way of thinking?
Nate: I don't, I have no answer obviously. If I did, if I had an answer I'd be in politics.
But it's started to really scare us and I think that fear kind of started driving us to write about those introspective kind of — the feelings that are happening inside of us, I suppose. We always write a lot about fantasy and science fiction.
But now we started to realise that the science — the dystopian future, we're like almost in it. I mean, we are like that's very close to happening actually.
So, we started to write about what life would be like in the future if a Trump-type character had become President.
Nate: And then he did.
AH: And then he did.
Nate: So we're hoping people find some relevance in the fact that it's a very-
AH: Predictions becomes reality. Was it a shot of reality for you guys when you suddenly realised that what you'd sort of hypothesised was actually turning into an every day thing?
Nate: Not a shock as much as we kind of — we all felt kind of like it was a possibility. And it wasn't — it didn't feel good. You know it's not a good feeling especially when I feel like a — there are more good people in the world than bad people, and the more you travel, you find that.
AH: When you look at the total number of votes, I mean the popular vote. It wasn't his, was it?
Nate: And very similarly, with Brexit, I think a lot of people were duped. I think a lot of people were kind of in their emotions about things and got influenced in way that they have never been influenced before and…
AH: Because nobody would come out and say 'this is how we are gonna handle how we've been looking the borders, this is how we will deal with immigration'. Everybody said, well anyway we can do this only if we leave. It was all dealt with in extremes.
Nate: Extremes. What I learn, the older I get, the more I travel around the world is that life is grey area. Life is not black and white. There are very few things in the world that are black and white. There's a lot of grey area. And the more we can figure out how to live in that grey area, the better.
Again, with borders, we're dealing with the same thing in our country and it's like — it's not one thing or the other. And there's many solutions and many ways to work out these problems. You know, instead of polarising each other, it would be a lot better to open communication.
AH: Absolutely. Is that sort of tougher content in the lyrics that you've got on your new album, has that change the sound of the band at all? Has it made you more aggressive band as a result?
Nate: I think there's stuff on the record that's the heaviest stuff we've ever done. And then I also think in the flip side there's the most vulnerable, the most vulnerable, emotionally exposed material as well. Because we're scared.
AH: Yeah. Now you're talked about the vulnerable side, one of the tracks you played this afternoon is on the album,
'Ain't It A Shame' Now that really starts almost as if you're opening your heart to the crowd in front of you.
Nate: That's the idea. I mean, that's really the idea behind that tune. There's not a real specific, very specific piece of inspiration for that tune but a lot of it has to do with the disillusionment. And just feeling like you know, even as a guy who's in the politics, you buy into the system. You believe in it. And it breaks your heart. And that's like, that's the hardest thing to deal with is when you put your all into something. A lot of bands go through that feeling too, being in a career for 10, 12 years and it doesn't move as fast as you wanted to. Or a journalist or photographer, anybody who has a passion.
You put everything into it and you expose yourself to that world and sometimes that world choose you up and spit you right the fuck out. And that's a heavy feeling. And that's you know, it's kinda like the day after the election.
Now, a hundred and fifty days or almost two hundred days in. This is where we're at, you know……
AH: You did quite a powerful video as the lead in to the new album, Blindness to Danger. There's quite a story behind how it was shot?
https://youtu.be/ipUXXdeYc7c
Nate: The video was shot all in an iPhone 7 every last bit of it. We did it in about 48 hours. We did it on smallest budget, I mean, basically for free. The director, Miguel "M.i.G." Martinez has done a lot of fantastic hip hop videos in the past and the label kind of said, "Hey we have two weeks to turn this thing around," and we were like, "Oh."
Our good friend the wrestler The Almighty Sheik helped us out. He came and it just kind of worked out.
AH: And you wouldn't know it's been done just on the phone.
Nate: Right. Right. And people say that it's — I think a really interesting thing about the video too is we wanna also show people that you can do anything you want to do. I mean you can just go, you wanna make a video, go make it. You don't need a big budget.
It's nice when you have one. But if you don't, you should never let it stop you.
AH: Returning to an age where creativity is 50% of the way..
Nate: It trumps everything. But it's always been that way. You know what I mean?
More Info about Lionize can be found here:
http://www.lionizemusic.com/splash/
Official Album Tracklisting
01. Darkest Timeline
02. Face Of Mars
03. Fire in Athena
04. Power Grid
05. Ain't It A Shame
06. Election Year
07. March Of The Clones
08. Let You Down
09. The Mad Scientist of Sunshine
10. Nuclear Soul
11. Blindness To Danger *
* Available Now!
If you want to get hold of the album: Click here – Album Pre-Order
Tell Us How You Feel
Comments