Words: Victoria Llewelyn / Pics: Adrian Hextall / MindHex Media
KISS are one of those bands that severely divide opinion. To some, they are the epitome of rock and roll, outrageous, unapologetic, smashing boundaries. Others feel their music is daft, bland and what they do is little more than panto. Whatever – Manchester Arena is packed to the rafters with some of the most enthusiastic fans I've ever witnessed. Black and white make up, fright wigs, silver boots and enormous cardboard-and-tin-foil ensembles over shiny black spandex leggings are in abundance. The atmosphere is loaded with excitement, a vast crowd of superfans with expectations to match.
With the immortal line of 'You wanted the best – you got the best' KISS explode onto the stage via a set of octagonal platforms that descend from the ceiling like alien beings beaming down from a spaceship, into a carpet of dry ice, lasers, glitter explosions and fireworks. It's clear from the word go that every possible stop has been ripped out for this finale tour. Paul, Gene and Tommy are statuesque in their altitudinous platforms as they scan the screaming crowd before kicking off with 'Detroit Rock City'. Flames and fireballs shoot up towards the ceiling, the volume is deafening, and the cameras pan to a legion of KISS army fans desperately holding on to their 'KISS PLEASE DON'T LEAVE US' banner.
This is clearly a show for the fans, a gesture of gratitude, appreciation and bonding between them and the band. KISS have decided to go out with a bang, and throw every crowd pleaser they can think of into the next two hours. It is a magnificent circus, Simmons spitting fire and Stanley soaring over the crowd on a zipwire to perform solo on a raised platform right in the centre of the arena surrounded by fans. Eric Singer's extensive drumkit rides up and down on its own moveable riser so everyone gets to see him as much as they do the guys in front. Every band member has a solo to show off, Simmons elaborating his with a mouthful of fake blood delightfully pouring down his chin whilst he hammers on his hatchet shaped bass. A sweet addition is Eric Singer leaving his drums and demonstrating his solo keyboard skills at a sparkly, silver (of course) piano.
Even those that aren't the biggest fans of the music – which hasn't always been the most astute or discerning, but has it ever been meant to be taken that seriously – recognise a tune or two they can shout along to, and it's a rare show that you witness so much unadulterated joy in a crowd that size.
Performance-wise, yes, they can still play, Paul can still sing, hell, he can even still hit those high notes which is more than can be said for some of his era. What they lack in finesse they absolutely make up for in stage presence and entertainment value. They use the stage props to get around, jumping on and off these octagonal plates to move up and down; gets nicely around the problem that they are not spring chickens and they are dressed in attire that must weigh at least ten kilos each and looks like any sudden movement might cause them a serious mischief. Old favourites such as 'Lick It Up' and 'Love Gun' might sound plain silly to a non-believer, but tonight we are in KISS-land and it works as well as it did forty years ago.
'Psycho Circus' heralds a set change and even more pyrotechnics, and as we go into 'I Was Made For Lovin' You' glitter cannons, confetti and streamers cascade down, the entire arena is on its feet as Paul has told us 'he doesn't wanna remember everyone sitting on their asses!' It is simply glorious, and there are genuine tears in the audience as they leave the stage for the last time. This is the last time, right?
SETLIST:
Rock and Roll (Led Zeppelin song) – Intro Tape
Detroit Rock City
Shout It Out Loud
Deuce
War Machine
Heaven's on Fire
I Love It Loud (Gene breathes fire)
Say Yeah
Cold Gin
Guitar Solo (Tommy Thayer)
Lick It Up
Makin' Love
Calling Dr. Love
Psycho Circus (partial)
Drum Solo
100,000 Years (partial)
Bass Solo (Gene spits blood and flies)
God of Thunder
Love Gun (Paul flies to stage B)
Black Diamond (Paul flies back to stage A)
Encore:
Beth (Eric on piano)
I Was Made for Lovin' You
Rock and Roll All Nite
God Gave Rock 'N' Roll to You II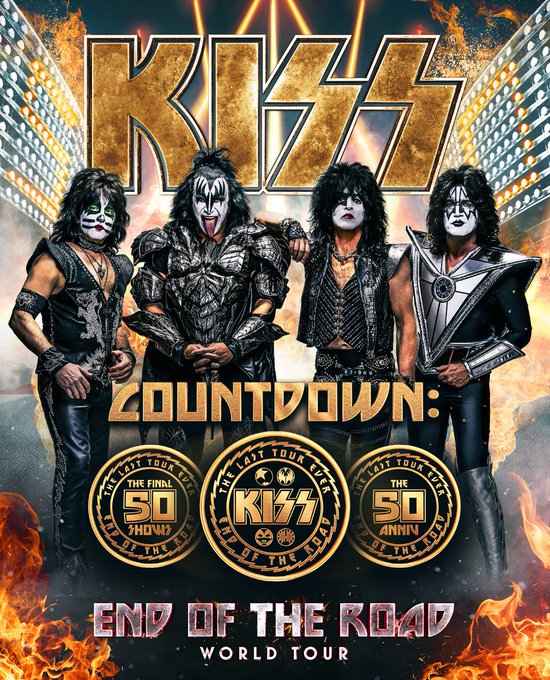 The band close out the final tour with dates in the US, culminating in 2 shows at Madison Square Gardens
Kiss Tour Dates
October 29 – Austin, TX @ Moody Center
November 1 – Palm Springs, CA @ Acrisure Arena
November 3 – Los Angeles, CA @ Hollywood Bowl
November 6 – Seattle, WA @ Climate Pledge Arena
November 8 – Vancouver, BC @ Rogers Arena
November 10 – Edmonton, AB @ Rogers Place
November 12 – Calgary, AB @ Scotiabank Saddledome
November 13 – Saskatoon, SK @ SaskTel Centre
November 15 – Winnipeg, MB @ Canada Life Centre
November 18 – Montreal, QC @ Centre Bell
November 19 – Quebec, QC @ Videotron Centre
November 21 – Ottawa, ON @ Canadian Tire Centre
November 22 – Toronto, ON @ Scotiabank Arena
November 24 – Knoxville, TN @ Thompson-Boling Arena
November 25 – Indianapolis. IN @ Gainbridge Fieldhouse
November 27 – Rosemont, IL @ Allstate Arena
November 29 – Baltimore, MD @ CFG Bank Arena
December 1 – New York, NY @ Madison Square Garden
December 2 – New York, NY @ Madison Square Garden
Details below:
https://www.kissonline.com/tour
About Author